Corns and Shoes
Tuesday, 29 November 2022 00:00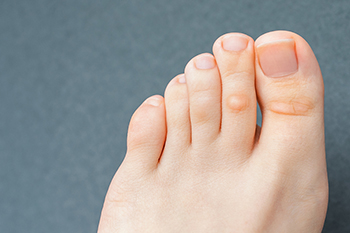 The development of corns on the feet can be an annoyance for a wide variety of individuals across the country. Typically this condition develops in response to the concentration of intense pressure or friction on the foot. The corn itself is made of thick skin. Importantly, there are steps that you might consider taking in caring for your corns. For example, wearing the correct kind of footwear can have a significant impact on the extent to which the corns are being taken care of. By wearing shoes that are ill-fitting, an individual can aggravate the corns. Instead, one might think about wearing shoes that provide the feet with sufficient space to move about in freely. Thus, by choosing to wear the right kind of shoes, a person can sufficiently guard against both the formation and aggravation of corns. If you think that you might have corns, contact a podiatrist today to learn more about what can be done to mitigate and treat the condition. 
If you have any concerns regarding your feet and ankles, contact one of our podiatrists of Central Ohio Comprehensive Foot Care. Our doctors will treat your foot and ankle needs.
Corns: What Are They? and How Do You Get Rid of Them?
Corns can be described as areas of the skin that have thickened to the point of becoming painful or irritating. They are often layers and layers of the skin that have become dry and rough, and are normally smaller than calluses.
Ways to Prevent Corns
There are many ways to get rid of painful corns such as wearing:
Well-fitting socks
Comfortable shoes that are not tight around your foot
Shoes that offer support
Treating Corns
Treatment of corns involves removing the dead skin that has built up in the specific area of the foot. Consult with Our doctors to determine the best treatment option for your case of corns.
If you have any questions please feel free to contact one of our offices located in Delaware and Westerville, OH . We offer the newest diagnostic and treatment technologies for all your foot and ankle needs.
Read more about Corns: What Are They, and How Do You Get Rid of Them