Rheumatoid Arthritis in Feet and Ankles
Tuesday, 22 August 2023 00:00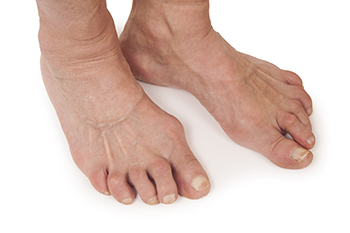 When rheumatoid arthritis, RA, targets the feet and ankles, life can feel unsteady. Foot and ankle arthritis not only brings pain but also disrupts balance and movement, making tasks like standing and walking difficult. Experts say 90% of RA patients experience foot or ankle pain, a rate twice that of the general population and primarily affecting women under 60. RA's impact is profound, and crippling foot pain can curtail daily activities. Symptoms of RA in the feet include swelling, stiffness, and deformities. Common issues include painful nodules, dislocated toe joints, bunions, and Achilles tendon pain. RA can strike the forefoot, midfoot, hindfoot, and ankle, altering mobility and causing distressing discomfort. While there is no cure for rheumatoid arthritis, various treatments alleviate RA-related foot pain. Strategies include gentle exercises, ice application, orthotics, braces, and accommodating shoes. Other measures include physical therapy, steroid injections, and surgical procedures. Surgery is a last resort and ranges from joint fusion to a replacement, each with unique risks and benefits. If you are suffering from rheumatoid arthritis that is affecting your feet, it is suggested that you make an appointment with a podiatrist.
Arthritis can be a difficult condition to live with. If you are seeking treatment, contact one of our podiatrists from Central Ohio Comprehensive Foot Care. Our doctors can provide the care you need to keep you pain-free and on your feet.
Arthritic Foot Care  
Arthritis is a joint disorder that involves the inflammation of different joints in your body, such as those in your feet. Arthritis is often caused by a degenerative joint disease and causes mild to severe pain in all affected areas. In addition to this, swelling and stiffness in the affected joints can also be a common symptom of arthritis.
In many cases, wearing ill-fitting shoes can worsen the effects and pain of arthritis. Wearing shoes that have a lower heel and extra room can help your feet feel more comfortable. In cases of rheumatoid arthritis, the arch in your foot may become problematic. Buying shoes with proper arch support that contour to your feet can help immensely.
Alleviating Arthritic Pain
Exercises that stretch the foot can prevent further pain and injury and increase mobility
Most of the pain can be alleviated with anti-inflammatory drugs, heat, and topical medications
Massages can help temporarily alleviate pain.
It is best to see your doctor for the treatment that is right for your needs and symptoms. Conditions vary, and a podiatrist can help you determine the right method of care for your feet.
If you have any questions, please feel free to contact one of our offices located in Delaware and Westerville, OH . We offer the newest diagnostic tools and technology to treat your foot and ankle needs.
Read more about How to Care for Your Arthritic Foot