Children's Foot Posture
Tuesday, 12 September 2023 00:00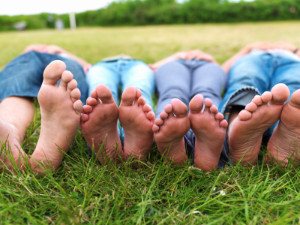 Children's foot posture refers to the positioning and alignment of the feet when a child is standing, walking, or engaged in other weight bearing activities. It is an essential aspect of overall lower limb and musculoskeletal health and can affect walking patterns, such as pigeon toes, tiptoeing, and out turned feet. Foot posture is typically described in terms of three main categories. The first one is normal foot posture, in which the foot maintains a neutral alignment. Second is flat feet, and the entire sole lies flat on the ground. Finally, high arched feet exists when an individual has abnormally high arches. Children's foot posture develops from birth to eight years of age. If sensory systems in a child's brain provide incorrect or unclear information, there can be inefficient muscle patterns and delayed gross motor skill development. For children with joint hypermobility, where joints are overly flexible due to elastic ligaments, the brain compensates using muscles to stabilize the joints. This imbalance in muscle strength can lead to alignment issues, muscle fatigue, and posture control problems. To understand the mechanics of your child's foot development, it is suggested that you make an appointment with a podiatrist who can examine your child's feet and address any emerging issues.
Making sure that your children maintain good foot health is very important as they grow. If you have any questions, contact one of our podiatrists of Central Ohio Comprehensive Foot Care. Our doctors can provide the care you need to keep you pain-free and on your feet.
Keeping Children's Feet Healthy
Having healthy feet during childhood can help prevent medical problems later in life, namely in the back and legs. As children grow, their feet require different types of care. Here are some things to consider...
Although babies do not walk yet, it is still very important to take care of their feet.
Avoid putting tight shoes or socks on his or her feet.
Allow the baby to stretch and kick his or her feet to feel comfortable.
As a toddler, kids are now on the move and begin to develop differently. At this age, toddlers are getting a feel for walking, so don't be alarmed if your toddler is unsteady or 'walks funny'. 
As your child gets older, it is important to teach them how to take care of their feet.
Show them proper hygiene to prevent infections such as fungus.
Be watchful for any pain or injury.
Have all injuries checked by a doctor as soon as possible.
Comfortable, protective shoes should always be worn, especially at play.
If you have any questions please feel free to contact one of our offices located in Delaware and Westerville, OH . We offer the newest diagnostic and treatment technologies for all your foot and ankle needs.
Read more about What to Do to Keep Your Child's Feet Healthy